Blades & Knives
Simprint is now your simple smart solution for all your knives and blades!
Contact us today to learn more: info@simprint.com, 972-753-0200
Industries Served
Printing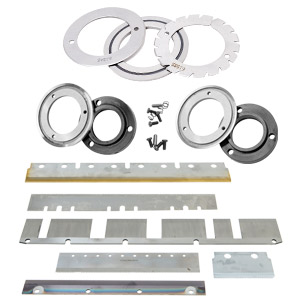 Simprint now carries a range of machine knives to serve the printing industry and meet all of your web press and sheet fed printing machinery, bindery, mail room and finishing department machinery needs. Our variety of steels, finishes and coating allows for maximum wear resistance, dust control and cut quality.
Converting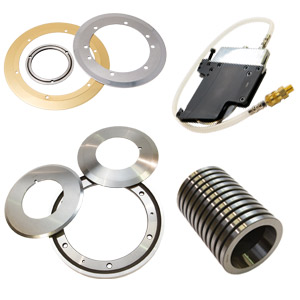 We carry standard and precision circular and rectangular replacement industrial machine knives for all levels of the converting industry, ranging from paper, plastics, foils, tires and textiles to circuit boards and synthetic components. Our products are crafted from the highest grade steel, with specially selected coatings to help prolong product life and increase performance.
Packaging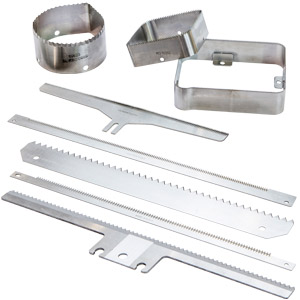 We carry packaging knives for applications including vertical form, fill, seal (VFFS), horizontal wrapping, cup and tray sealing, and vacuum packaging. Using only European stainless steel and a precision crush ground technique, we provide our clients products that boast consistent tooth profiles for precise cutting and superior performance.
Processing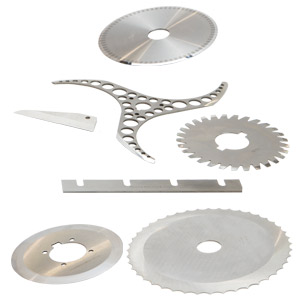 We carry replacement knives and related parts for the processing industry, serving a wide range of clients worldwide ranging from bakery and vegetables to meat and seafood, with available configurations including straight and circular knives with serrated or scalloped teeth and beveled edges.
Segments
Tag & Label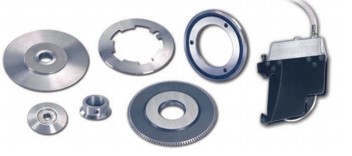 We offer an extensive stock of superior quality knives to cater to the demands of your printing presses, slitting, perforating and cutoff production equipment. These include:
Perforating slitters
Top slitters
Bottom slitters
Razor blades

Sheeter knives
Knife holders
Pneumatic air holders
Spare parts for various holders
Our materials are selected and hardness standards strictly controlled to prolong the life and enhance the performance of the product. Our blades are consistently manufactured to OEM specifications for all types of label, ticker, precut insert and card productions machines.
Converting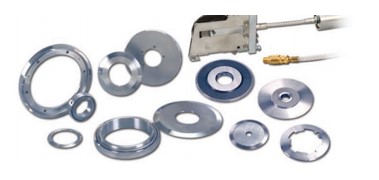 We leverage our vast industry and product knowledge to manufacture the highest quality precision ground circular and straight knives for the pulp & paper, flexible packaging, film, foil, laminated, plastics and non-woven industries. Our knives are manufactured to not only meet, but often exceed OEM standards with custom manufacturing available to meet the needs of each customer's unique applications. We specialize in all of the standard and many of the non-standard, converting process knives, including:
Top slitters
Score & crush slitters
Web splicers
Split perfs
Multi-grooved knife blocks
Sheeters
Core cutters
Rotary cutoff knives

Razor slitters
Knife holders
Dished slitters
Razor blades
Bottom knives & anvils
Split slitters
Paper tube saws
Press Room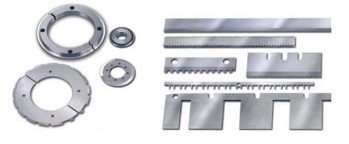 We leverage our in-depth product knowledge to design and manufacture the highest quality precision ground circular and straight knives for the commercial printing, newspaper and business forms industries.
Each knife is produced with consistent hardness and burr-free edge qualities to exceed the demands of today's high speed printing industry. Our product line includes:
Beveled knives
Serrated knives
Slitters
Splicers

Inline rotary cutters
Folder blades
Additional custom designs as requested
Packaging Solutions
We carry straight tooth knives for vertical form fill seal baggers, pouch applications, horizontal seal wrappers, vacuum packaging and roll stock equipment. Our serrated tooth forms are capable of cutting all types of films, with the ability to add other profiles, depending on the desired application. This same precision tooth form is also used on all our cup and tray sealing knives for portion packaging. Our packaging products include:
Bagger knives
Cross cut knives
EZ open knives
Slitters
Cutoff knives

Pouch knives
Cup and tray sealing knives
Perf blades
Wrapper knives
Scissor knives
Food Processing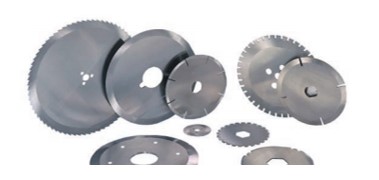 Our great selection of straight and circular knife configurations with serrated or scalloped teeth and beveled edges ensures that we have products for ever customer application. Our ground machine knives are made for a variety of food processing applications, including:
Guillotine knives
Macerators
Roll milled scraper blades
Shredder blades

Slicers
Tenderizers
Portioner blades
Chopper blades
We currently provide solutions within the bakery, dairy, cereal, cheese, confectionery, meat & seafood, snack, fruit, vegetable & salad and tobacco industries. We adhere to strict quality control procedures to ensure the FDA and OEM standards for corrosion resistance are consistently met, meaning a higher quality product for our customers, extended product life and consistently clean cuts.
Bindery & Mail Room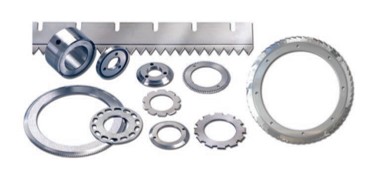 We boast an extensive stock of superior quality knives to cater to the needs of your full line of bindery department and mailroom production equipment. Our inventory includes:
Top slitters
Bottom slitters
Dished slitters
Sheeter knives

Perforating slitters
Creaser blades
Trimmers
Rotary & fixed cutoff knives
Our knives are produced using superior turning and grinding techniques, with exact flatness and bevel dimensions for superior cuts and extended life. The materials are selected specifically for optimum wear qualities, with strictly controlled hardness standards for enhanced product performance.
Bag Making & Film Cutting

Our precision ground industrial machine knives for manufacturing bags and converting film have coatings formulated to extend wear and provide consistent and precise cuts. We bring extensive experience with Alpha Marathon, Amplas, CMD, Cloucester and Lemo machinery and equipment, allowing us to better meet the needs of our diverse customer base. We offer:
Core Cutters
Bag knives
Razor blades

Hot knives
Dished slitter
Pneumatic air holders
Our product line includes serrated tooth knives equipped with consistent tooth forms to provide maximum yield and a consistent quality cut for all grades and thickness of films. Our stock pneumatic air holders come complete with enhanced components to provide our film, tape and textile customers with the most durable air holders available.
Stay in the know!
Sign up for emails to receive product and service updates, as well as exclusive offers and discounts.